Yoga Mat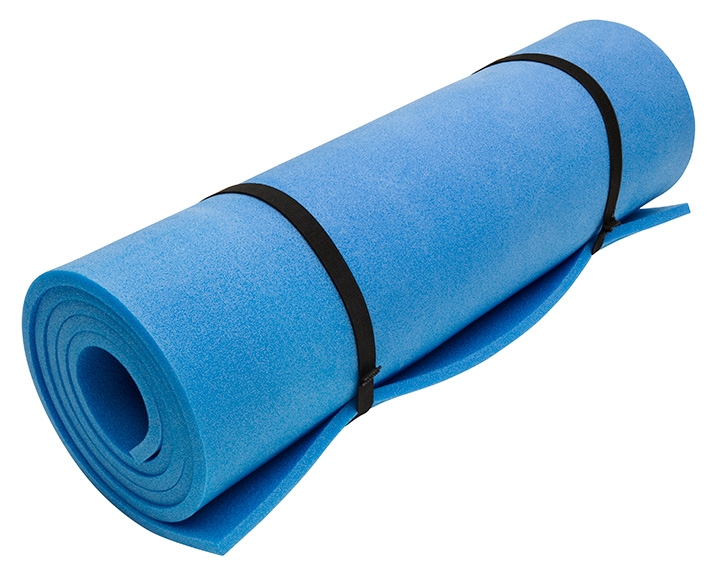 Available in a multitude of colors, yoga mats serve two main purposes while performing exercises: traction and comfort. Exercises can range from yoga poses to something more concentrated such as leg raises or sit-ups. Yoga mats are highly flexible and light-weight, making them a portable workout solution.
Traction
Most yoga mats are composed partially of rubber therefore providing them with a solid grip to nearly any surface. This is especially important during studio sessions where many people practice yoga close together. One small slip could injure you or a person near you. Since yoga is usually performed barefoot or in socks, the mat takes the place of the shoe sole with its rubber based composition.
With yoga, there is also a lot of emphasis on proper form which can place a large amount of pressure on the feet or hands. Without the yoga mat, these poses may cause one to slip or slide, the mat prevents that from occurring.
Comfort
Unless you are on carpet or an exercise bench, the floor is generally too uncomfortable to perform exercises that require the body to be pressed directly against it (as some lower ab exercises require). The yoga mat is a perfect solution for additional comfort while performing these types of exercises. Many individuals will compile a list of ab exercises to perform in succession to one another which require a flat surface. Others may compile core and chest exercises that require nothing more than one's body and a flat surface. Having a soft and comfortable flat surface will allow for a greater amount of repetitions and less discomfort.
Fitness Articles Categories